Between February and June 2023 ImpactScope team members participated in over ten different sustainability and web3 related events across three continents, and also online. After organising five hours of panels and talks during our Web3 for SDGs side event during the World Economic Forum in Davos in January, the following month we took our snow boots to Colorado.
ETHDenver 2023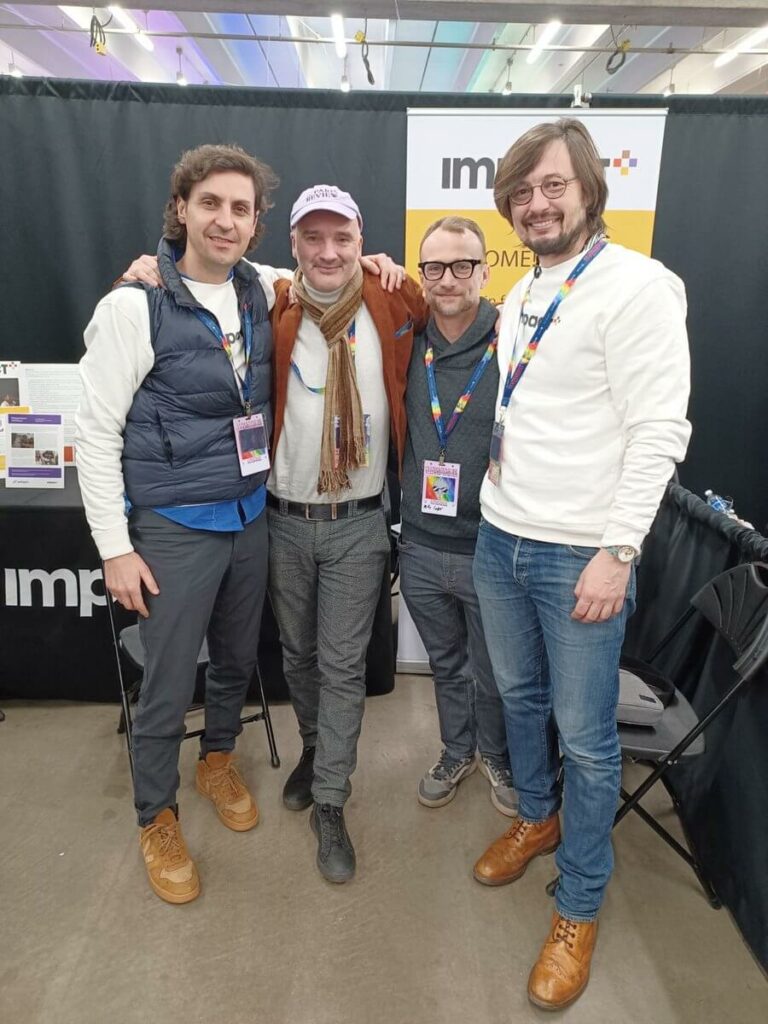 For ImpactScope and many other builders in the impact and #ReFi spaces ETHDenver was not just a conference but a real community-driven Innovation Festival. We spent three days hanging out with friends, collaborators and competitors, and we attended half a dozen workshops and presentations at the Impact + Public Goods Stage. Highlights of the trip were Reuben Youngblom's talk on Blockchain Ethics: Ethereum, Web3, and Decentralized Morality, our friend Jasper Driessens' presentation of Glo the poverty reducing stablecoin and Manu Alzuru's analysis "The problems with DAOs, Impact Communities and purpose driven projects."
Siemens AI Lab in Munich
We learned so much at ETHDenver. We would have loved to have stayed longer but we had to rush back to Europe to participate in the Tokenize the Energy Transition Hackathon at the Siemens AI Lab in Munich. As one of three selected global finalists, we had only 72 hours to build our prototype. Our proposed solution recorded energy metadata using oracles connected to smart meters. We then sent the metadata on-chain to a platform, which can be configured to display selected metrics according to any number of ESG reporting standards.
Online events
While there is no substitute for in-person gatherings, ImpactScope fully embraces the remote and virtual nature of the Web3 world. To activate diverse communities, we have been playing the role of both hosts and guests during several engaging Twitter spaces and podcasts.
On March 14th, our Chief Sustainability Officer, Michele Soavi, participated alongside Nadine Wilke (Particula), William ten Tijthoff (Carbify) and other guests on the panel "From DeFi to ReFi: Can Blockchain Technology Regenerate The World?" streamed live on YouTube. More than 300 viewers tuned in to watch the the discussion organised by ECOTA and moderated by Maximilian Roesgen.
On May 9th, we were featured alongside Celo Foundation, Topl, Ecosapiens and ReFiDAO in the Web3, Climate and Sustainability podcast starter pack by Crypto Altruism.
On June 21, Michele was back in action. This time he was with Susana Vanessa González Nexans, our Head of LATAM Partnerships. Michele and Susana joined Jarrett Carpenter, Crypto & Community Fundraising Manager at Mercy Corps, and Mateo Daza, Lead Engineer at Giveth and Commons Stack contributor on the "Merging Worlds: Exploring the AI-Blockchain Confluence" twitter space hosted by our friends at Topl, the interoperable blockchain protocol that enables a new, more inclusive, connected, and sustainable economy.
The next day Michele was behind the mic again, this time as a guest on the Cardano For Good twitter space, hosted by our friends Cole and Raz from Sustainable ADA, and moderated by Cardano Spot.
Growing our footprint in Latam
On May 8th Topl's Ecosystem Communications Manager, Tereza Bizkova, interviewed Susana about the challenges and opportunities of implementing ReFi and impact focused Web3 projects in Latin America and the Caribbean.
Thanks to Susana's evangelizing work, ImpactScope has co-organized, co-sponsored and hosted a number of in-person and online events for audiences in South America, including the inaugural Refi Venezuela gathering on June 16th and the well-received Spanish language twitter spaces "Los retos de la #web3 en Latam" (Web3 challenges in Latam) – co-hosted by our friends Lucía Gallardo, CEO of Emerge Tech Lab, Marcus AM, Ethereum Foundation Fellow and co-creator of Ethereum Guatemala, and Web3 SolarPunk activist, Urbánika.
Return to Switzerland
Meanwhile back in Europe and back in the physical world, as May turned into June, ImpactScope had a busy week attending several events in all over Switzerland. Michele attended three events in three different Swiss cities in one week. Starting in Lausanne on May 31 with Showcase 2030, a one day conference and exhibition organized by Enterprise for Society Center (E4S) and focusing on sustainable innovation in climate action, biodiversity and nature.
The following day day, Michele was joined by Sean in Zug, where they both spoke at the annual Crypto Valley Conference, Switzerland's premier blockchain event covering innovation, finance and and regulation. Michele spoke on a panel with Shane O'Connor, Innovation Manager at UNICEF's Office of Innovation, Florin Dzeladini of DeepLabs, and DeepSquare's CMO Maja Kehic. The panel introduced the research paper Next Step: Sustainable AI – How Can Blockchain Help? co-authored by Michele Soavi, Maja Kehic and Carmen Cucul and published by the Crypto Valley Association's Sustainability Working Group.
Finally, Michele ended the week in Zurich at the Deloitte and United Nations Institute for Training and Research (UNITAR) "Masterclass on IT Sustainability". The event featured two days of lectures and engaging conversations with industry leaders on how IT can help solve the most pressing societal challenges. An eye-opening showcase of the main difficulties and opportunities regarding how IT can be leveraged to create a positive impact for people and planet with financially viable solutions.
Looking towards events in Q3 and Q4
We'll be reducing our events and travel schedule for the summer months, but starting in September we will be back on the road again, first in Singapore for Token2049 then in New York for SDG Summit 2023.